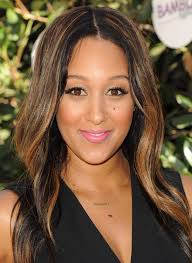 Tamera Darvette Mowry-Housley (born July 6, 1978) is an American actress and model. She first gained fame for her teen role as Tamera Campbell on the ABC/WB sitcom Sister, Sister (opposite her identical twin sister Tia Mowry). She has also starred in the Disney Channel Original Movie Twitches and its sequel, Twitches Too, and she played Dr. Kayla Thornton on the medical drama Strong Medicine. A reality TV show following her and her twin sister's lives, Tia & Tamera, began airing on the Style Network in 2011, ending in 2013 after three seasons.
Currently, she is one of the hosts of The Real talk show along with former fellow Disney Channel star Adrienne Bailon, Jeannie Mai, and Loni Love, which premiered on July 15, 2013.
She and her identical twin sister Tia Mowry were in a singing group in the early 1990s called Voices. The group debuted their first single, "Yeah, Yeah, Yeah!" in 1992 and charted No.72 on the Billboard Hot 100.
Early Life
Edit
Tamera Darvette Mowry was born in Gelnhausen in then-West Germany on July 6, 1978 to Darlene Renee Mowry (née Flowers), who served in the U.S. Army and later became her children's manager, and Timothy John Mowry, who was in the U.S. Army at the time of her birth and who became a custody officer/jailer with the City of Glendale Police Department when the family moved to California. Tamera Mowry is the older twin by two minutes. Tamera was born at 4:30pm, followed by Tia at 4:32pm.
Her father has English ancestry, and her mother is of Afro-Bahamian descent. Mowry's parents met in high school, in Miami, Florida, both joining the U.S. Army, and both eventually reaching the rank of sergeant. Mowry has described her family as being both "close-knit" and "deeply religious",and the sisters became born-again Christians when they were eight years old.
Other Ventures
Edit
To kick off motherhood, Tamera and her sister, Tia Mowry, planned on starting a project, Need Brand. Milky! and Stretchy! are two of the products that can cater to motherhood. Milky! is a 2.5 oz. bottle with all organic ingredients that can help mothers produce milk. Stretchy! is a stretch mark cream for post-operation scars.
Another sibling project includes a two-book series called Twintuition: Double Vision and Twintuition: Double Trouble.
Personal life
Edit
In July 2013, Tamera revealed that she did not lose her virginity until she was 29 due to her being a devout Christian, and that after she did it, she felt guilty and committed to staying chaste until marriage. She married Fox News Correspondent Adam Housley after dating for almost six years. The couple married on May 15, 2011 in California's Napa Valley. The couple welcomed their first child, a son named Aden John Tanner Housley, on November 12, 2012.[12] On January 4, 2015, Mowry-Housley announced through social media that she was expecting her second child, a girl, due July 2015. The couple welcomed daughter Ariah Talea Housley on July 1, 2015.
She also has two younger brothers named Tahj Mowry, an actor, and Tavior Mowry, who plays college football for University of California, Davis.
Tamera had a Shih Tzu named Milano.